Fyle integrates with TSheets by QuickBooks
Summary
Fyle users can now manage time, mileage, per diem and expenses related to a project or client. Users can sync Jobs from their TSheets account, and tag expenses and mileage entries to the corresponding jobs (seen as Projects inside Fyle).
Introduction
In a quest to improve performance and delivery, individuals and enterprises have always broken down their work into projects. Over the past few decades, we have seen the rise of project management as a skill, which essentially is responsible to understand the effort, impact and performance of these projects. In an ideal project management setup, the top few leading indicators include Time spent Expense Incurred Not surprisingly, a lot of our users who track mileage and expenses using Fyle had often voiced a need for tracking time as well. User requirements drive product roadmap for us here at Fyle, and hence we set out to explore what could be the best way to introduce time tracking inside Fyle. The best way to deliver on user expectations was to integrate with a solution they love, and that's when we decided on going ahead with Tsheets as our first time tracking partner.
TSheets by Quickbooks
Started in 2006, TSheets is a time tracking and employee scheduling app for companies needing to track, manage, and report time – an alternative to a paper timesheet or punch cards. With more than 20,000 customers across 100+ countries and more than 120,000,000 timesheets processed, TSheets is loved by its users. We realized that quite a few Tsheets users had also been looking to track expenses and mileage besides time, and that the Fyle-TSheets integration was befitting and beneficial for users of both the solutions. Every unique time entry inside TSheets is mapped to a unique Job ID (parent or child jobs), which in turn can belong to one or multiple users. These Job IDs are essentially the work packets (or projects) that a user is assigned to.
Fyle and TSheets integration
To integrate with TSheets, Fyle pulls unique jobs from TSheets into Fyle as Projects. User is then allowed to tag their expense or mileage entries to a particular project (Jobs pulled from TSheets).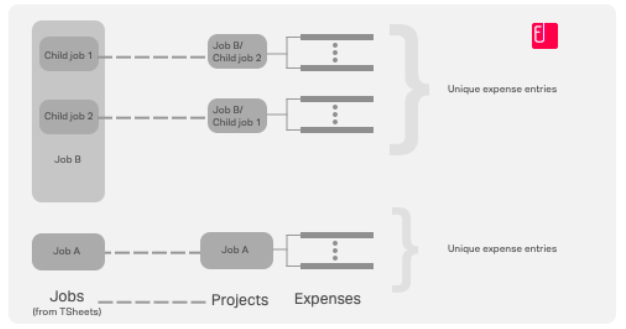 When creating a report, the user is allowed to filter expense entries by their TSheets Jobs and create reports. Fyle produces a project-wise summary of the report and adds a column in the exported reports for these projects.
How can you use this integration
The end result of this integration is a convenient way for enterprises and individuals to track time, expense and mileage records against a unique project or Job. Let's look at some use-cases
For enterprises
ABC Corp is looking to streamline time, mileage and expense records for their employees/agents/contractors.
The company admin asks the employees to signup for a new account on Fyle if they don't already have an existing one.
Employees switch on the integration and authorize Fyle to access their TSheets account for syncing jobs.
Henceforth, employees will see an option called 'Projects' while creating a new expense or mileage entry and will be able to mark respective entries to a particular project.
Employees will need to export project wise reports from Fyle and submit it to their admin, who can then match expense and time reports to projects (or jobs).
Admins and managers can now have a consolidated view of all expense and time entries related to specific job entry.
For Individuals
Gary is a freelance web developer who handles multiple clients and projects at a time. As per the contract of work, Gary is required to produce a report of time and expense incurred in delivering the projects. This is utilized by the client to process billing and payments for Gary.
Gary creates a new Fyle account (if they don't have an existing one) and allows Fyle to access their TSheets account.
Fyle pulls all the jobs as Projects inside Fyle.
When creating a new expense or mileage entry on their mobile or desktop, Gary tags the entry to any 'Project' they might want to.
When needed, Gary filters their expenses according to the client and creates a report for all of them within minutes.
Gary can now match expenses (with receipts) from Fyle and time entries from TSheets to create a consolidated report/invoice to bill their clients.
Using Fyle and TSheets together
If you're an employee or an individual, you can learn more about using this integration from our help documents here. If you're a Tsheets user and want to understand more about this integration, visit our Tsheets integration page or check us out on the Tsheets app marketplace. We'd love to understand how we can improve this integration to add more value and power to your workflows. If you have any suggestions or feedback, do let us know in the comments section or drop us an email at [email protected]