How to Find Free WiFi Anywhere (4 Apps)
Are you a freelancer or an individual who works remotely, but constantly cribs about connectivity?
Or is the lack of connectivity your primary reason for not traveling as much?
Or are you traveling abroad but want to save on the extra data costs and the battery drain?
If any of the above-mentioned questions constantly bother you, then this article is just for you!
One of the toughest aspects of traveling is the lack of consistent high-speed connectivity. One of the most common challenges faced by individuals who work remotely is the lack of good connectivity.
Bad connectivity has the potential to hamper productivity single-handedly.
What's the solution for your connectivity problems? – Free WiFi hotspots spread across the world!
Spotting them may not always be easy, and that's why we suggest getting one or all of these apps listed below. Stay connected no matter where you are.
4 Apps to get WiFi anywhere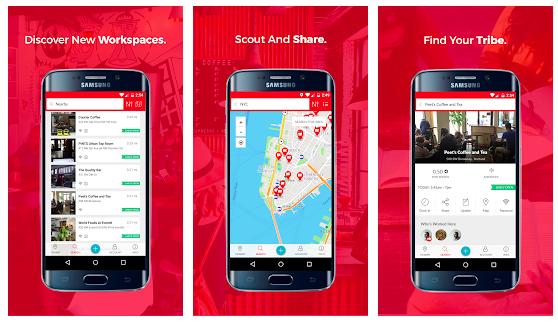 WorkFrom is one of the most highly recommended apps for productive nomads. WorkFrom provides more than just free WiFi. Individuals can use filters such as low noise, late hours, cafes, pet-friendly workspaces and more to help you select the best pick for you.≈
Download WorkFrom here: iOS app or Android App.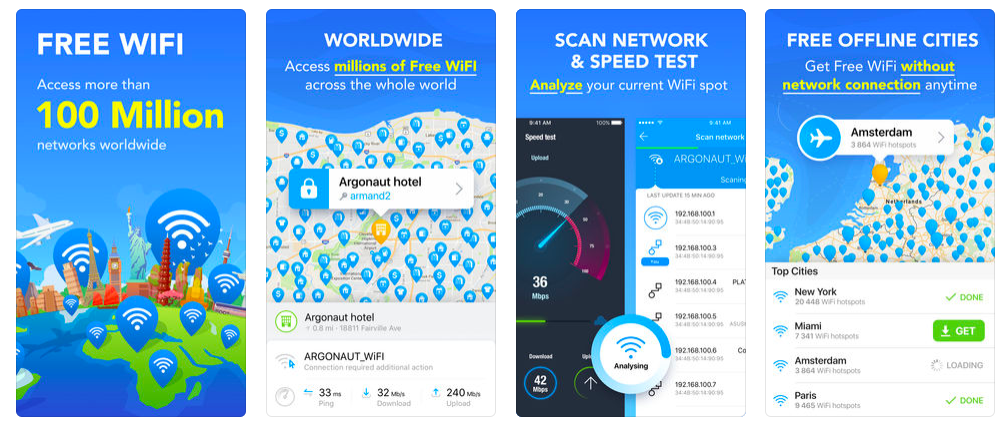 WiFi Map is designed to help you find the closest WiFi hotspot near you. Sourced by other users, the added WiFi sources can be open, public hotspots or even private networks that owners have shared passwords for. Word of caution: like with all user-generated information, there's always a chance that the information has been changed or can't be accessed anymore.
Download WiFi Map here:  iOS app or  Android App.
Instabridge works best in Europe. With over 1 million secure, up-to-date WiFi spots and hotspots, Instabridge is the simplest way to surf the internet for free. With Offline Mode, you can download the whole world map or just a specific region to access all WiFi spots even if you're not connected to any network.
Download InstaBridge here: iOS app or Android App.
Last option – Facebook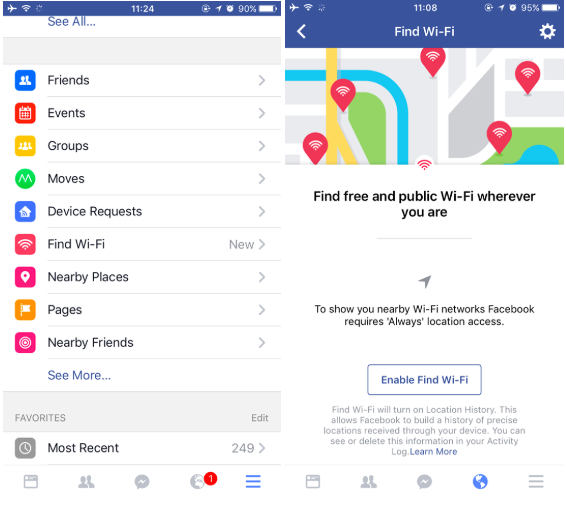 Source: Lifehacker
Believe it or not, you can actually use Facebook to find your closest WiFi hotspots. The feature works by using information that businesses have added to their business pages. Due to this, it may not pull up every business near you that might have WiFi available.
If you don't want to install an additional app, or don't have the time to install one specifically for this purpose, this feature could come in handy.
This is how it works:
Open the Facebook app and then click the "More" tab.
Select "Find WiFi" from the list of available options. You might be prompted to turn the feature "On."
If you can't find the "More" tab, then you may find the feature nested under the "Apps" section. Results are originally presented as a list, but you can click on the "Map" button at the top right-hand side of the page to see available WiFi spots on a map as well.
Now that you have got yourself some free WiFi let's get work done!
And when you do want to take a break from all this hyper-connected world of free WiFi, consider reading a book or maybe 23, here's a whole list we curated for you!