How to Automate Expense Tracking Completely
Expense tracking and keeping a tab on paper receipts is difficult for both the employees and the management. Close to 69% of employees merely attach all the receipts to the claim forms and leave the rest for the accountant to figure out. If you think finding similar socks is a problem, imagine having to riddle out which receipt goes to which expense all day.
Companies do not gain a lot of visibility with their employee's expenses due to varying formats and the absence of clarity on each expense. Most employees miss out on nitty-gritty details causing the managers to go back and forth to set things right. 
Here is a simple activity for employees –
Think of times you have found a crumpled, stained or even torn bill that you forgot to file; or

Times you made an expense but had no proof of the purchase.
It is never easy for anyone to manually store all kinds of paper receipts. Furthermore, for traveling employees, it is a greater hassle to keep track of expenses and get work done. Reimbursement cycles are also often too slow. With numerous forms, multiple processes, reports submitted, long approval cycles, and proof to be submitted for every expense, the employees rarely get reimbursed on time.
Ultimately, all employees end up spending valuable time (time that they could have spent in revenue-generating activities) to accurately file all paper bills along with the claim forms.
Clearly, both the employees and the management face a lot of problems. The lack of accuracy in reporting and further delays end up hitting goals that form the crux of the company.
Automating the Tracking Process 
Companies are beginning to understand the toil of tracking paper receipts. With most of the business processes going digital, organizations have started to incline towards an expense management software to make the job of trailing paper receipts and expense tracking easier. Companies that have gone through with the process have reported a staggering 58% reduction in the processing costs. The reduction in the amount of paper involved is one of the key reasons companies have adopted this method. Here are some more:

No Loss of Receipts 
Receipts are the only proof you could give your payroll officer of an expense that was made. In 2016, 50% of employees on average claimed to have lost at least some of their receipts. With the use of AI-powered image processing and scanning, employees need not worry about losing receipts ever again.

Real-time Monitoring 
Managers need not to wait for the employee to submit the receipts in order to review them. With the use of the central platform, employees can file reports and have the managers verify them in real time. Accountant and managers no longer have to wait for traveling employees to submit their receipts when they get back to work.

Better Visibility 
22% of companies claim that the lack of visibility into spending is a problem. With the proper use of scanning and the image processing software, managers and payroll officers get better visibility into the spending patterns and can curb unproductive expenditure to a great extent and all this in real time.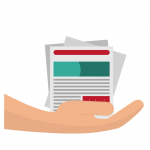 Accurate and Simplified Data Entry 
Manual or semi-automated expense reporting systems often involve a lot of data entry. Thus, promoting inaccurate data and errors. Employees need not to carry around numerous amount of receipts. They can simply use their smartphones to keep track of them. With the use of this technology, employees can minimize the number of mistakes without compromising on the kind of data that is stored. This also allows them to be more focused on the job at hand.
We at Fyle aim to let you track receipts like a pro while keeping the data accurate and auditable. Employees no longer have to wait until the end of the month to file an entire load of paper bills. With the Fyle app, employees will no longer find tracking paper receipts a hassle.                                                                                                                                     
Employees can scan the receipts and Fyle them anywhere.

With the use of image processing, the amount, the bill ID and other details are automatically stored as expense data,

without the need for manual entries.                                                       

The World's first AI-powered email plug-in on Gmail and Outlook lets employees extract data from emails with ease. There is absolutely no need for printed copies. Managers are notified as and when an expense is made and the trail lets approvers and employees edit and view their expense history.
The possibility of fraud is greatly reduced as the managers have clear information about the expenses that are Fyled along with a soft copy of the paper bill. Fyling expenses under specific categories allow the finance team to view the expenses without having to match every receipt with every expense. Not only will this help them gain insights on the areas with excessive expenditures, but also help them review and revise policies accordingly.
The software comes with a plethora of other features and we at Fyle work hard to make your business processes simpler. To know how Fyle can add value to your business, sign up and try it out for free!