5 Apps to Find Hotels And Flights Last Minute
Your meeting did not go as planned and now you have to extend your stay for another day but the hotel is fully booked already.
Or perhaps, the location for your latest event has been shifted and now you have to look for accommodation closer to the venue.
Or consider this, an outstation client suddenly decided that your presence is absolutely required at the meeting the very next day.
There could be endless reasons why you could be looking for hotels at the very last minute. If you know where to look, you can actually find hotel rooms available at the last minute, at drastically discounted prices (ranging anywhere from 30% to 80%).
Here are a few online services that specialize in offering hotel deals last-minute:
Hotel Tonight partners with hotels and makes their unsold rooms available to their users at a discounted price. It's the most reliable destination for last minute hotel bookings!
UK-based Last minute is a platform devoted exclusively to late travel bookings. Lastminute.com aims to bring you the best deals on flights, hotels, flight + hotel, and everything else you need for your travel. The free app allows you to have all the information about your trip at your fingertips.
Be it last-minute flights or last minute hotels, Expedia has you covered. It allows for a whole section dedicated to unplanned trips and it's pretty comprehensive. You could even find hotels close to your location, using their geo-based search filters. Along with that, Expedia also lets you book last-minute flights, so you can accommodate any changes, as and when they happen.
Orbitz, also owned by Expedia, is also a platform that has a dedicated section to find last-minute flights and hotels. Orbitz has a free Rewards loyalty program, and even a card that provides the user with additional deals as and when more purchases are made.
As much as we hate non-refundable bookings, sometimes free cancellation options are just not available. When your plans change, Roomer comes into the picture to take care of your hotel bookings. Roomer is a travel marketplace which allows people to list their non-refundable hotel reservations for sale. Here, buyers can avail room-bookings at discounted prices.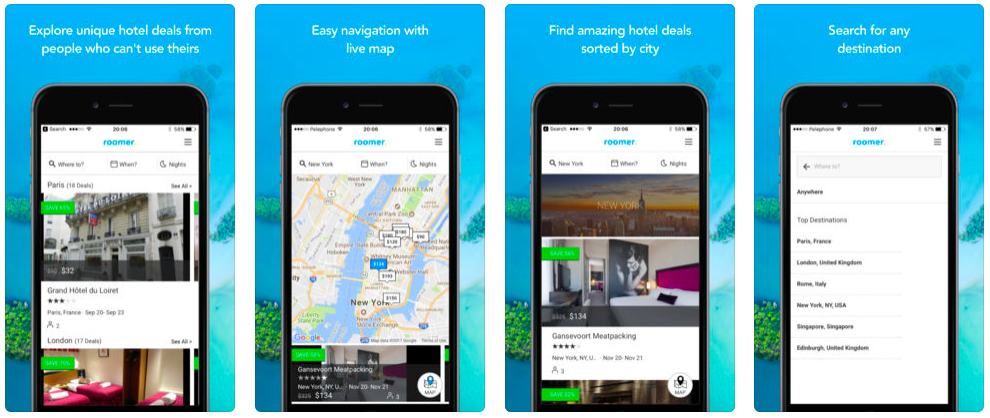 Now that you know, how you can book last minute flight and hotel bookings, how about finding Free WiFi wherever it is that you're headed? Here are 4 apps.